Current Incentives:
Federal Investment Tax Credit:  30%

State incentive: REC's or Renewable Energy Credits.  Pay the owner for 15 years for all the power produced by solar array.   Each time a solar installation generates 1,000 kilowatt-hours (kWh) of electricity, an REC is earned. .  RECs can then be sold  providing revenue for 15 years.  This means the roof will now produce a profit with solar.

Reduced or eliminates electric bills.  This also hedges against the increasing utility costs for decades.  This allows a business to increase their profit margin.

MACRS:  accelerated depreciation schedule for business owners to help expedite return on investment.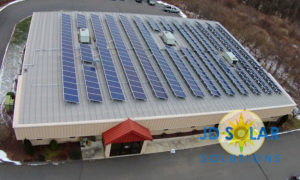 Team with the Experts
We have experience installing solar at:  Municipalities, Churches, Fire Departments, Farms, Manufacturing facilities to all types of Office buildings.  JD Solar will build a solution to meet your business needs. When you hire us, you hire professionals who have decades of quality craftsmanship experience combined with construction management. We simplify the process and handle the town and utility permits as well as state incentives, . We provide a transparent analysis and viewpoints to help you make a great long tem decision.
Free Site Survey and Evaluation Information
If you are ready to become part of the solution, contact us for a free consultation and a JD Solar Solutions Design Engineer will call you to answer all your questions.